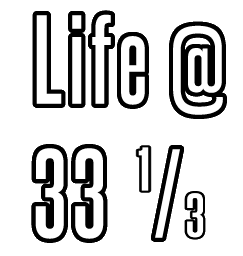 Every week, Get It On Vinyl present a new installment of "Life @ 33 1/3," a blog spotlighting different vinyl collectors from all over the world. No matter the the size of the collection, or genres, our goal is to promote, enhance, and educate about the vinyl record format.
[spacer height="20px"]
Tell us a little about yourself? 
[spacer height="20px"]
My name is Marc With a C. I'm 36 years old, happily married and currently reside in Orlando, FL. I was born at a very young age, and since then I've devoted my life to making and sharing music. I've made more albums that I can count under the stage name Marc With a C, plus I'm making music with a new band named Claire and The Potatoes. I've been hosting a record geek podcast called The Real Congregation for the past five years – it started out on terrestrial radio, and in recent years it's been presented by the Nerdy Show network. I'm also the general manager for Nerdy.FM, which is a 24/7 online radio station dedicated to playing the best in nerdy music. When I take showers, I've got the music cranked up. I usually don't drive without picking out what I'm going to listen to ahead of time. I mostly think in musical metaphors and find conversing in other ways challenging and uncomfortable. And I'm a lifelong collector of music in practically every format I can get my hands on, though I much prefer vinyl to the alternatives.  
[spacer height="20px"]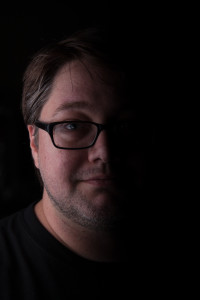 How did you get into collecting? 
It's funny, but I'd never really thought about it until now. Since I was around 5 or so, I was frustrated that I couldn't just reach for any song I wanted to hear, pull it off the shelf and play it. Internet days were still a long time coming, and I wasn't always successful with recording songs off of the radio. Pretty much from the moment that I saw The Who on TV around that time, I didn't spend any of my allowance on anything besides music. And maybe I'd buy some bubblegum to chew while I listened. I think I started becoming a real pack rat about music collecting after an incident where a drug-addled family member had sold off the entirety of the meager collection that I'd amassed when I was around 12 to fund their addictions. Records, tapes, CDs, comic books, my Walkman – everything but clothes and a mattress, really. A few pieces were left over that I still have, things that they couldn't sell, but I had to start over from scratch. I found myself trying to repurchase the things I'd lost as well as picking up anything else that interested me along the way. 
It's certainly plausible that I was psychologically using music to plug a void in my heart after a really painful period. Or maybe I subconsciously figured that if I had a large enough collection that it would be very tough to steal it in full? But yes, around that time, anywhere I lived became a black hole for music. Once it came into my possession, I didn't let go of it, even if I didn't necessarily like it or "get it." I felt like these were works of art that someone had put a lot of love into, and I like being surrounded by art. It comforts me. I try not to pick up things that I won't enjoy listening to, but you often don't know for sure about a record until you've lived with it for awhile. Touched the cover. Smelled the vinyl. 
[spacer height="20px"]
What were some of the first albums you ever bought? 
[spacer height="20px"]
I was bequeathed more than a few things from my mother's record collection, but I'm pretty sure that the first few things I'd bought were Duran Duran's Seven and The Ragged Tiger, "Weird Al" Yankovic's Eat It 7′, Yes's 90125 and The Who's Tommy. Probably picked up a Monkees compilation shortly thereafter. If you were to put all of those songs into a blender, you'd end up with a glass of juice that tasted a lot like all of the songs that I'd later write. 
[spacer height="20px"]
What is the most prized record in your collection?
[spacer height="20px"]
I don't necessarily have a single record that I'd make sure was saved if my house were burning down or anything. I'd try to get as many as possible out after making sure my family was out of harm's way, then my guitars, and then I'd start grabbing at random stacks in the living room, hoping to get some of the really important ones out before they were too damaged by smoke. But if forced to choose a few, I'd pick my copy of Pod by The Breeders. It's the copy from the radio station WSOU, has writing and labels all over it, but if you lived in New Jersey and heard any songs from Pod on the radio? It came from that copy, which is one of the coolest things ever to me. I also really love my copy of Kaleidoscope's White Faced Lady. It's a great psych concept album that isn't easy to come by, and I didn't even know it existed until my friend Domenico brought it all the way over from Italy and gave it to me because he thought I'd enjoy it. I highly value a Twa Toots anthology called Don't Send Me Flowers. Again, it's a very hard record to find, but it seems that very few were made, and all existing copies should be treated well because they are one of the most important twee-pop bands of all time, and it's nigh on impossible to find a physical copy of anything they did besides their Peel Session. And weirdly, I really love a Jerry Falwell album called Feudin', Fussin' and Frettin'. Not because of his sermon, but because it's the only appearance that I know of to exist of the two songs by the Bernard Sisters. They do two amazing tracks – "The Monkey Song" and "The Ecumenical Movement" – that are some of the most incisive dogmatic christian pop gospel I've ever heard. I mean, these songs are still borderline offensive today while still being so catchy that they should have been hit singles – all sung by two sisters that couldn't have been 10 years old at the time, much less known what the heck their father was making them sing about. One of the sisters went on to star in the show Wings, and I've always been curious what she thinks of those recordings now.
[spacer height="20px"]
Are there any specific genres or types of records you collect more than others? 
[spacer height="20px"]
Not on purpose. I do suppose that my collection tends to run closer to the more "Western Hemisphere" side of pop music, but I dabble in everything. I still haven't been bitten by the dubstep bug, but I can appreciate any kind of music that you put in front of me for one reason or another. I like it all. But I have a special place in my heart for a great pop hook, and I think that my collection reflects that. Lately I've been more into soul, jazz and instrumental music than in years past, but I tend to find that whatever you're hooked on around 14 or 15, when you're really making decisions about the way the world around you works? That's going to be the backbone of your musical scope for the bulk of your life, and you shouldn't run from it. And you'll always return to the stuff you loved in your preteen years, which more often than not is pretty cheesy. I don't know of many 8-year-olds that were rocking out to Can and Stockhausen. Great things to listen to when you've got the ears to hear it, but always be ready and willing to embrace your early cheese – it's what makes you who you are, really.
[spacer height="20px"]
How many records would you estimate are in your collection? 
[spacer height="20px"]
I have about 2000 LPs in the living room right now, but those are just the ones I'm really interested in right now. I probably have the exact same amount in the garage collecting dust, but I try not to keep things too cluttered in the family living space. And if there's ever something I want to pick up, I usually have to dig through the garage to make sure I don't already have it. Some things I just pick up on a whim from yard sales because it looks interesting, and I don't get around to many of those records for years. I'm lucky to have a garage that doubles as a free record repository whenever I get bored with the few thousand that are in my line of sight at any given time. There's also around 2500 CDs in the living room, but that's not really relevant to this conversation, is it? I also have a major soft spot for 8-tracks and own far more of them than I care to admit.
[spacer height="20px"]
Where is your favorite place to buy used records? 
[spacer height="20px"]
Locally, I really love Park Ave CD's, East West Music and Retro Records – all in Orlando. They are all great, all for different reasons. I'd actually worked at Park Ave for a few years, so it feels like I'm visiting friends when I go on a spree in there. I have a soft spot for East West because Hannah and her husband – his name escapes me at the moment, apologies – have been running that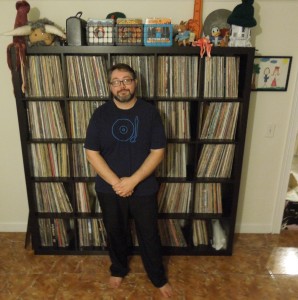 place since around 1971, and while I moved around a lot as a child, I actually bought pretty much all of my first albums from them directly. As a matter of fact, one year for my (sixth?) birthday, I just wanted to spend my money on the aforementioned Monkees compilation. They were out of stock, as the second wave of Monkeemania was in full swing. I ended up crying, and Hannah ended up calling every store in town to track me down a copy of it. I never forgot that, and I recently went back there to tell her what an impact that moment of kindness had on my life, and I try to support them every chance I get. She recently turned me on to a super cool Fela Kuti album I otherwise might have never heard, too. A great reminder that mom-and-pop record shops matter. 
But I'll tell you my favorite secret spots for digging: any thrift store run by a church. I don't know that this applies everywhere in the world, but in the South? Especially with Baptists, you'll find that once you're saved, they'll talk your ear off about all of the evil influences that rock and pop music have in the lyrics, and some of these churches will convince you that you now need to get rid of all of those albums you've collected over the years. And just as the new convert is about to toss them in the trash? Someone'll say, "Hey, we could sell those to heathens that don't know any better, and it'll help fund the church," and what do you know? Those collections will be on sale for pennies. This is how I end up with Robyn Hitchcock bootlegs, Cure singles and sealed mono Kinks records for less than a dollar most times. 
[spacer height="20px"]
Why do you think vinyl is an important format in modern times? 
[spacer height="20px"]
It's important to remember that in the early '80s, very few people that were into vinyl were chomping at the bit for a new format. There was a large-scale decision made by the big labels of the time that the best way to dig themselves out of a slump was to introduce a new format with twice the markup. Thus the compact disc was born. It was an actual conspiracy, and the roots of it run pretty deep. There's a great book that traces that lineage (including the initial record company reactions to hearing music on CD for the first time and deeming them to sound like utter crap) called Perfecting Sound Forever by Greg Milner, which explains the situation better than I ever could in an interview. I'd highly recommend it to anyone that has a passing interest in what the audiophile side of music. 
With that being said, the most important reason for vinyl to exist today is as follows: If you see an album you want to buy offered on vinyl, it's probably because the artist that made it wants you to hear it that way. And when applicable, we as music fans owe it to the creators to experience their cart on their canvas of choice. I'd argue the same for the current wave of cassette-only releases, even if it's not a format that I have a continued vested interest in. 
But the reasons go beyond that, really. Besides all of the arguments that can be made about bigger artwork equaling better artwork, how a properly mastered LP can sound miles better than any digital counterpart could ever hope to sound, and how we tend to inherently perceive certain distortions as "warmth?" Please allow me to put forth an imaginary scenario.
Imagine that a solar flare sparks up tomorrow. Once all of our phones die, and our electrical grids fail, our iPods run out of battery life, etc. If you drop the needle on a (hopefully still unwarped) record and turn it at the right speed and put your ear very close to the vinyl? You can still hear the music. Vinyl's final.
Marc With a C's music has been reviewed a couple on Get It On Vinyl. You can read the reviews

here

and

here

.
Check out more from Marc with a C:
[spacer height="20px"]
Do you want to be featured on Life @ 33 1/3? We would love to hear from you! Email us at news@getitonvinyl.com
[really_simple_share]