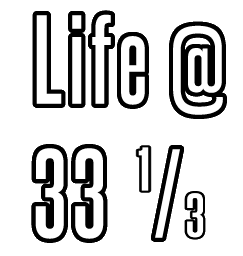 Every week, Get It On Vinyl present a new installment of "Life @ 33 1/3," a blog spotlighting different vinyl collectors from all over the world. No matter the the size of the collection, or genres, our goal is to promote, enhance, and educate about the vinyl record format.
TELL US A LITTLE ABOUT YOURSELF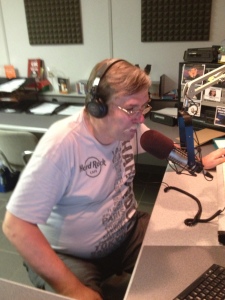 I'm 56, and have been in the radio business- first as a deejay and currently as a writer & producer for most of my adult life, with time outs of various lengths for pissing the wrong people off!  I've been a fan of radio since I was a little kid, and stumbled upon my career quite by accident. During the summer before grade 12 (1975), I called the local manpower office looking to pick up some casual work.  The lady informed me that everything had been filled but, just as I was about to hang up she said "Say, you have a nice voice- the local radio station is looking for a part time announcer, here is the number to call" and voila, a career was born.
Over the years I've worked at 8 or 9 radio stations in British Columbia and Alberta, some of them more than once.  That first station, CKQR in Castlegar, B.C. has hired me 5 times, with my last stint being in 2010 as creative director/ relief deejay.  It was there that I was given my current on air name of "John The Rock Doctor" by the program director, after arriving on the station doorstep with 3 McDonald's fry boxes full of interview discs and cassettes- some from record companies, some from interviews I've done myself over the years. Oh- I've also been writing album reviews since 1990, and currently publish as john The Rock Doctor at www.gonzoonline.ca with something I call "The Record Box".  I currently work for the Northeast Alberta hub for Newcap Broadcasting, a group of small market radio stations in Lloydminster, Wainwright, St. Paul, Bonnyville, Lac La Biche and Cold Lake.  My 'day job' is writing radio commercials for these stations, but I also write and produce "Rocky Night In Canada" and "How Blue can You Get" that air on our two classic rock stations.
HOW DID YOU GET INTO COLLECTING?
I'm the youngest of 4, so I probably got that from my siblings.  My dad was in the navy in the 60's, and when he came back from overseas he'd always have the latest Beatles records for my sisters.  Later on my brother turned me on to harder rock like Hendrix and Zeppelin.  My earliest musical memory is of having a pile of kiddie songs on 45 around the age of 4 or 5, and listening to a song called "Percy The Seal" over and over again.  There was always a radio on in the house and I was always fascinated by the sounds I heard coming from it.  My mom was a real music fan too, with The Ink Spots and Nat King Cole being her favorites.  All of which goes to say that I grew up surrounded by music, and it just seemed natural to collect it- even moreso after I became a musician myself.
WHAT WERE SOME OF THE FIRST ALBUMS YOU EVER BOUGHT?
The first album I can recall buying with my own money, made from cutting neighbors' lawns, was Creedence Clearwater Revival's "Green River".  I remember being thrilled at branching out from my siblings' musical influence and finding groups for myself like Grand Funk Railroad, Alice Cooper and Black Sabbath.  Late 60's and early 70's, rock & roll to me was Neil Diamond, CCR and The Beatles- then I heard my first Black Sabbath album at a friend's house in junior high ("Master Of Reality")  and my world turned upside down in a matter of minutes… I can still picture the scene as if it just happened yesterday.
WHAT IS THE MOST PRIZED RECORD IN YOUR COLLECTION?

Sort of a tie- Trooper's first, self titled album.  They're from Vancouver, and the copy I have is the very same one that my first radio station had, it came with me when I left.  It's special for that and, years later, I got the band's guitarist, Brian Smith to sign it for me.  The other is a 12 inch single of "Like The Way I Do" by Melissa Etheridge, that I got her to sign back stage at a concert in 1992.  OH- I found my 'holy grail' on ebay a few years ago, a record by an obscure Canadian punk band called Chevy Dirt.  OH- I also have a British copy of Black Sabbath's debut album, with the upside down cross and poem in the gatefold, signed by drummer Bill Ward- he was my very first interview in 1990.
ARE THERE ANY SPECIFIC GENRES OR TYPES OF RECORDS YOU COLLECT MORE THAN OTHERS?
Yes- mainly 70's hard rock, but records from virtually every genre.  At one point my vinyl collection was about 2,000 records. Then, in the early 90's, I started converting to CD's.  Within a few years I had virtually all CD's, and maybe 30 records.  I've been inspired by the recent resurgence of vinyl and have started slowly re-building.  I have about 100 or so titles so far, and add one or two more every payday.  The re-building started with buying all of the Ozzy-era Black Sabbath albums on 180 gram vinyl, and I have started doing the same with my Kiss collection with their 40th anniversary vinyl reissues.  When I buy an artist on i-Tunes or on CD that I particularly enjoy (Johnny Winter's "Roots" album of 2012 is a good example, and Black Sabbath's "13"), I track down the vinyl too.  I have occasionally bought vinyl on line, but prefer to go to a local store.  There is an HMV at the local mall in Lloydminster, Alberta where I currently work.  I also make occasional trips to Edmonton, to the HMV superstore at West Ed mall which has a growing vinyl section, and to a number of the smaller independents like Blackbyrd Myoosic on Whyte Avenue downtown.  I've also re-discovered the joy of just flipping through the racks and buying something because it looks interesting- that's how I bought music back in the day, and it's fun to do now.
HOW MANY RECORDS WOULD YOU ESTIMATE ARE IN YOUR COLLECTION?
Probably between 100 and 150 as noted above, but I am also starting to rebuild.  I currently have over 4,000 titles on CD.
WHAT IS YOUR FAVORITE PLACE TO BUY USED RECORDS?
I hit the garage sales during the summer, occasional collector's shows at the local arena (found a 3 album Nat King Cole set in mint condition last summer for $10), plus the various small shops in Edmonton.  Though I haven't been in a couple of years now because it's a 6 hour drive away, "Recordland" in Calgary is used music Mecca for me.  Not sure how they made out in the floods last year, hope they're still okay.
WHY DO YOU THINK VINYL IS AN IMPORTANT FORMAT IN MODERN TIMES?
Sometimes we become so enchanted by progress and technology we don't give a second thought to what gets left behind.  Aside from the superior sound quality over digital, with vinyl you have to be more involved with the music- keeping the records clean, putting them on the turntable, etc.  I've always been one to enjoy album art, and I pour over the liner notes, especially on a first listen.  Music has always been more than sound to me- it's a tactile and emotional thing too.  I don't think I hate any kind of music, but I have no time for music I don't care about, if you get the difference.  If it doesn't speak to me, I'm not interested.
WHY IS VINYL COLLECTING IMPORTANT TO YOU PERSONALLY? 
Sound quality aside, it's a way to reconnect with my past and re-discover some of the joy of music that has been lost over the years.  It reminds me of the excitement I felt when I bought that CCR album, and starting my vinyl collection virtually from scratch again (pardon the pun) is allowing me re-live some of the best times of my life.  Some of the best, longest lasting relationships I've built over the years have centered on music, and when I'm flipping through the racks at a local record store, surrounded by folks of all ages doing the same, it feels like I'm amongst my people, that I am where I belong and all is right with the world.
Do you want to be featured on Life @ 33 1/3? We would love to hear from you! Email Us
[really_simple_share]