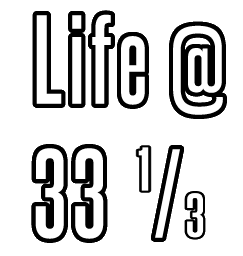 Every week, Get It On Vinyl present a new installment of "Life @ 33 1/3," a blog spotlighting different vinyl collectors from all over the world. No matter the the size of the collection, or genres, our goal is to promote, enhance, and educate about the vinyl record format.
[spacer height="20px"]
Tell us a little about yourself?
I'm 33 and have been buying vinyl since I was 19 or so. I started really getting serious about it in my mid twenties though. I started learning more about first pressings, limited runs, and all of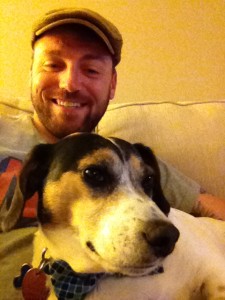 that fun stuff. That's when the fun really started for me. My preferred method of buying vinyl is going to local record stores and supporting the local scene by buying from them. Either that or buying from the artist direct at their shows. I rarely buy from amazon or eBay. Those sites take all of the fun out of the hunt.
How did you get into collecting vinyl?
As a kid, my two favorite things were probably music and sports cards. I used to subscribe to those cd clubs like Colombia house and BMG. Remember those? So I always loved buying music, but I didn't necessarily collect it until I was older. It's kind of like I needed something to collect after I grew up and stopped buying baseball cards. I'm a collector at heart and vinyl was really just a natural progression.
[spacer height="20px"]
What were some of the first albums you ever bought?
I think the first two albums I bought were "Smash" by The Offspring and "Dookie" by Green Day. I grew up in NJ and Ohio, but I really connected to west coast punk rock as a teen. Those two bands, along with NOFX, Rancid and Social D provided the perfect soundtrack to my suburban teen angst.
[spacer height="20px"]
What is the most prized record in your collection?
That's such a hard question to answer. There's definitely more than one. I have a first pressing of Murder by Death's first album, limited to 500 copies. I love that band and had been looking for that record for years before I finally stumbled onto it in Louisville, KY. There's my original pressing of Social Distortions "White Light, White Heat, White Trash", which was released in 1996. My French 7 inch pressing of Dead Kennedy's "Holiday in Cambodia" is among the standouts of my collection as is my first pressing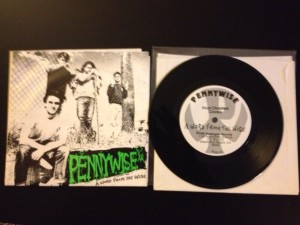 of The debut 7 inch from Pennywise. That's a pretty rare record to have. I'm very fond of my copy of "Baghdad" by The Offspring on Nemesis Records. It's one of their earliest official releases. I also have some signed albums including Tenacious D, The Misfits & Ian Mackaye of Fugazi/Minor Threat.
[spacer height="20px"]
Are there any specific genres or types of records you collect more than others?
I probably have more punk than anything else, but it's definitely all over the place. I only buy albums that are very important to me. I'm very particular about it. So I can honestly say every record in my collection is an album that I absolutely love. You'll find everything from Sam Cooke to Dead Kennedy's to Muddy Waters on my shelves.
[spacer height="20px"]
How many records would you estimate are in your collection?
Somewhere around 300 or so.
[spacer height="20px"]
Where is your favorite place to buy used records?
I have a few places that I always go out of my way to shop at.
1) Princeton Record Exchange – Princeton, NJ
2) Vintage Vinyl – Fords, NJ
3) Shake It Records – Cincinnati, OH
4) Everybody's Records – Cincinnati, OH
5) Culture Clash Records – Toledo, OH
I've had so many great experiences at these shops and I highly recommend everyone check them out if ever given the chance.
[spacer height="20px"]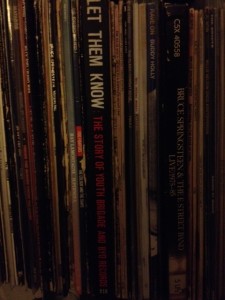 Why is vinyl collecting important to you personally?
No other format brings you closer to the music. Vinyl is such an involved way to listen to music. It so much more than just turning on your iPod and forgetting about it. With vinyl you have to choose a single record, take it out of the sleeve, put it on the record player and then gently place the needle on the record. And you can't just forget about it! You have to turn the record over once side A is done playing. It's a beautiful thing and I think that people who listen to vinyl actually pay more attention to the songs as a result of the involvement with the listening experience.
[spacer height="20px"]
Do you want to be featured on Life @ 33 1/3? We would love to hear from you! Email Us
[really_simple_share]