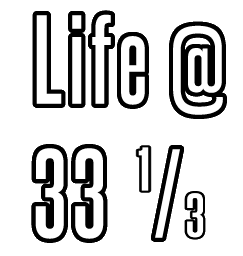 Every week, Get It On Vinyl present a new installment of "Life @ 33 1/3," a blog spotlighting different vinyl collectors from all over the world. No matter the the size of the collection, or genres, our goal is to promote, enhance, and educate about the vinyl record format.
Tell us a little about yourself?
Well, frankly, I'm not that interesting. I'm thirty-one years old, and I've been collecting for about twenty years. I have a one year old daughter, and she loves going into my record room with me. She's really into Motown. She'll dance to it or even fall asleep if she's tired. She really likes to be held up so she can see the vinyl spin. I have a Billie Holiday picture that she is obsessed with.
For a while, I co-owned a record store for a little while. It had always been a dream of mine, and I got the opportunity to buy Velouria Records in Visalia, California. I had a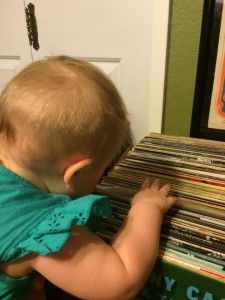 partner who worked full time, and I worked on the weekend when I wasn't at my regular job. It took too much time from my family though, so I let my partner buy me out. It was a hard choice, but it just wasn't the right time for me. I really enjoyed making friends and talking vinyl though. As a side note, recently, Adam Furtado, a friend of the store, was working one night at Velouria, and he was brutally attacked while taking out the trash. He has no health insurance and a ton of bills. I would encourage anyone reading this to take a second and donate to help pay his medical bills at https://www.giveforward.com/fundraiser/tml4/adam-furtado-s-medical-bill-fund. He's a great guy who loves vinyl. Just thought I'd throw that in there while I have this forum.
What's on your turntable right now?
I've been trying to pick up some Dave Van Ronk albums. I just picked a copy of Dave Van Ronk Sings the Blues. It's actually the same album as Dave Van Ronk Sings Vol. 2. It's a great album either way, but Sings the Blues has the better cover.
Why vinyl?
Well, there is the obvious sound quality issue, but that's not what really got me into it. I hadn't been collecting too long when someone talked me into buying a copy of Captain Beefheart's Safe as Milk. I had no idea what I was getting myself into, but the album blew me away. It was pure genius. Until that moment, vinyl had been an interest of mine, but not nearly the obsession that it would become. I had an album that I had never heard of before that blew my mind. I could find the classic standard rock stuff or the current punk on CD, but I had never seen Captain Beefheart on CD (I know now that it exist, but it wasn't in my local CD store). I learned two things from that vinyl copy of Safe as Milk: 1. There was a lot of great music I didn't know about out there on vinyl. 2. Albums were meant to be listened to as a whole work. The album cover, the track listing, the way album is paced and hangs together, and the label, they are all meant to be taken in as one piece of work. I had skipped tracks on CD my entire life and never truly listened to an album as a whole like I listened to Safe as Milk. Plus, I'm just a physical media guy. It's the same with books and movies too. I just want to own what I pay for.
How did you get into collecting?
I've always loved music in general. I grew up in a house where music was always playing. My parents had a pretty decent collection of folk, classic rock, and Motown. Plus, I was the youngest of four kids. My older siblings were into all different kinds of music including metal, country, grunge, indie, jazz, soul, and hip-hop. Thus, I was exposed to a lot of different kinds of music as a kid.
Records really didn't enter my life as an interest until I was about twelve or so. My older brother joined the air force. He was going to England and couldn't take his record collection. It wasn't a big collection. He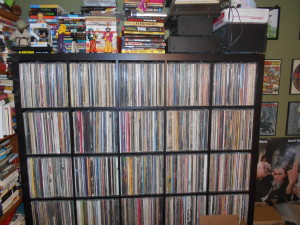 had a bunch of Miles Davis' albums, a few Beatles' album, and a handful of some esoteric world music stuff. That's really when I got interested in vinyl. There weren't any vinyl stores around at the time. There were music stores, but they were all dominated by CDs. I would hang out in antique stores where LPs were a buck a piece or so. Plus, when people knew I was into records, they would give me old collections. It was really a great time to get into LPs because the market had fallen out at the time. I once bought Bowie's first nine albums in mint condition for $50. At the time, I thought that was an outrageous price, but in hindsight, it was a damn good deal. I finally found a store about an hour from my house. It was a great store, and I started to spend all my extra cash there when I got a chance, and it just spiraled from there.
What were some of the first albums you ever bought?
I started by buying standard classic rock albums. I bought a lot of Beatles, Pink Floyd, Hendrix, The Rolling Stones, The Who, and so on. I was really into grunge at the time, but I didn't even know some of that stuff was available on vinyl though. I would track it down later and pay too much.
What is the most prized record in your collection?
This is a really tough question. I have a lot of LPs that I love, and I have a lot more LPs that I have spent a lot of time tracking down. I have a few cool white label promos like The Flying Burrito Brothers' first album and Tim Buckley's Starsailor.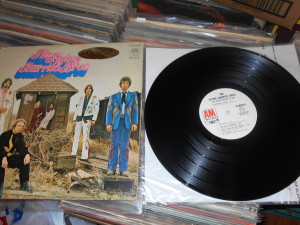 I have a few autographed albums I've managed to pick up. I'm really into Ty Segall, and I've seen him in concert a few times. Some of the venues were small, and I was able to get him to sign my LPs. He was a really great guy about it too. I've had similar experiences with The Meat Puppets and JEFF the Brotherhood. My favorite story though has to be Chris Robinson of the Black Crowes. He was playing at a little place not far from Velouria Records. He came in and dug the scene. He asked us to deejay his next show, and I was able to get him to sign my Black Crowes' albums. Plus, we talked about music for three or four hours after the show. It was surreal, and the guy has great taste in music.
I also have a handful of just rare or hard to find albums. I have some cool original grunge albums like Motherlovebone's Apple and Green River's three albums. I have some original Roky Erickson albums. I've managed to pick up Bob Seger's first seven albums. I know Bob Seger doesn't sound rare, but you have to run out and find his first few albums if you can. Seger hates those early albums and refuses to release them on CD. They are crazy psychedelic garage rock LPs. I really can't recommend them enough, but the trick is finding them. One of the more obscure titles I have though has to be Endless Boogie's Volume 1 and Volume 2. Endless boogie is a band made up fifty year old dudes (one of them is a high end record dealer in New York), and they jam like a mix of The Stooges, ZZ Top, and Canned Heat. There were only 200 copies made of each of their first two albums. The covers are all hand stamped. They would go into antique and record stores in New York and secretly leave the albums in the store for someone to find. I didn't get into the band until their major label debut. I had to track down these two albums, but they are some of my favorite albums. Finally, a long time collector friend of mine was getting out of LPs. He gave me the first chance to go though his collection, and I was able to pick up original pressings of all three Nick Drake albums.
Are there any specific genres or types of records you collect more than others?
I'm pretty eclectic in my record collection. I have a lot of classic rock, punk, grunge, blues, country, folk, and jazz. Good music is good music. I don't care when it came out or what genre it belongs to. I've always searched out guys who know more than me, and I would ask them what their favorite albums are. I would then start picking up the albums on their lists. This strategy has paid off big time too. A lot of these guys were older, and while it wasn't my intent, when they were ready to liquidate their collection, they would offer me first crack or even give them to me. I've inherited some awesome titles. I was lucky to set up some of those friendships while I was young.
What are your top five desert island LPs?
Muddy Waters'—Folk Singer

Dr. John- Gris Gris

The Stooges- Raw Power

New York Dolls—Self Titled

Captain Beefheart—Safe as Milk
How many records would you estimate are in your collection?
I have too many LPs. I really have a patient wife who tolerates my collection. I've got to have around 6,000 LPs or so. Some of them are organized, but others are just in boxes on the floor. I'm pretty anal about how they are stored, but not having them alphabetized doesn't bother me. I enjoy just digging into a stack and finding a lot of different kinds of music to cycle through. 
Where is your favorite place to buy used records?
This is another hard question. My favorite place of all time is named Spinners in Fresno, California, but it's the Spinners of the 90's and early 2000's. The first owner was named Gary Edwards. They guy is hands down the most honest record seller I've ever met. Whatever you paid him for the LP, it was the fair price. He was very by the book about his pricing, and I got some great deals from him. Plus, he is just a great guy. He would always point me in the direction of music I had never heard. I would walk into Spinners with no idea of what I wanted, and I would leave with a stack of mind blowing LPs. Plus, he found out when my birthday was, and every year, he would give me something cool from his personal collection. Last year, he gave me three bootleg Nirvana seven inches. I'm not a seven inch guy by any means, but those are pretty badass. The store is still there, but there is a new owner. It's not a bad store by any means. I'm just very partial to the old Spinners. Gary is part of some record fairs occasionally, and I will always go to a record fair where he's selling. Of course there is Velouria Records that I used to co-own. It's still a great store. I really dig Tower District Records also in Fresno, California. It's a newer store that deals only in used vinyl. I don't know how he does it, but Bob, the owner, has a great selection of titles to choose from. I picked up some Sun Ra records from him recently. It was awesome. These were LPs I'd only seen on-line before, but he had them all in store.
When traveling, there is a place called PDQ in Tucson, Arizona that is pretty cool. It's just a huge store with tons of stuff to dig through. I also like to hit The Beat in Sacramento, California. I know there are more that I must not be thinking of. Every time we travel, I make it a point to search out record stores. Stock can really vary by region, so it always pays off to look around.
Do you want to be featured on Life @ 33 1/3? We would love to hear from you! Email us at news@getitonvinyl.com
[really_simple_share]