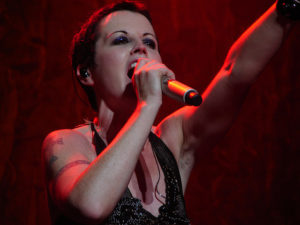 Like many, I was blindsided by the news that Dolores O'Riordan passed away.
Unfortunately, the last couple of years have come with far too many amazing voices in music taken far before their time was due. While like many we rushed to our twitter feed to not only confirm the news, but to share our thoughts and grief with other likeminded fans. Much like before, we changed our playlist for the day, paying tribute to the artist with our ears and attention. It's a process that has become all too commonplace lately. However, the passing of O'Riordan is different. Not only did she lead one of the most influential bands in the 90's, and an accomplished solo artist, O'Riordan is perhaps one of the most recognizable voices in music from the past 30 years. Her one-of-a-kind style could only be imitated by the bravest of karaoke singers, and nobody even tried to replicate it professionally. It simply could not be done. From her falsetto howling in the final moments of "Zombie" to her soft tones of "Free to Decide" there was no vocal scale she could not give her own sound. It is perhaps the biggest, and rightfully so, reason she will be remembered. Nobody sounds like O'Riordan, and nobody likely ever will.
However, before we close the musical chapter on O'Riordan, we need to recognize that her greatest work, at least by this writers' standards, will go largely forgotten.
In April of 1996 the band followed up with incredibly successful sophomore album, No Need to Argue with the largely shelved To the Faithful Departed. Released in April of 1996, the album was a complete turn from their previously established sound, opting for a more melancholy vibe and passive time signatures. Even the two most upbeat songs "Salvation" and "I Just Shot John Lennon" were drenched in darkness.
The album was not well received. Drastically underselling its predecessor (although it did go double platinum), and critics slamming it. Q magazine even declared it one of the 50 worst albums ever. The album was inspired by the loss of close friends and family in the year leading up to its recordings. In the liner notes O'Riordan explained the title: "To the Faithful Departed – This album is dedicated to all those who have gone before us. Nobody knows exactly where these people are, but I know we would like to believe it is in a better place.  I believe it is a Human impossibility to obtain complete peace of mind in this dimension, there's too much suffering and pain – particularly for children 'Suffer Little Children' To come unto me for theirs is the kingdom of heaven. To the faithful departed and those left behind There is a light that never dies."
I don't even know exactly where I was going when I started writing this article, just hours after it was announced that she died. What I do remember was watching the specials on MTV leading up to the release. I remember Dolores trying to explain to the fanbase about the new direction. I remember hearing the album for the first time, trying to relate to the loss and pain that she had put into the songwriting. I remember being moved from extreme highs and lows between "Salvation" and "Free to Decide." I recall trying to find the meaning behind the carnival sounds of "Will You Remember?" Most of all I remember To the Faithfull Departed proving to me that music can engage every emotion. It can drag us through hell, making us face the darkness to appreciate the light even more.
"Love is the most important thing in this world. Love is everywhere when we open up and forgive. Thank you for all your support and understanding."         -Dolores
-Liner notes from To The Faithful Departed
Thank you, Dolores. We hope you found the light beyond this dimension.