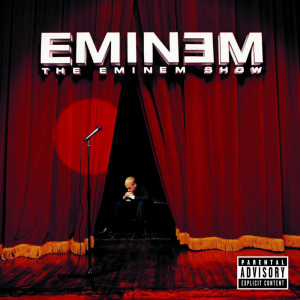 "Guess who's back, back again/Shady's back, tell a friend/Guess who's back, guess who's back." Whenever these lyrics pop up on my iPod, I immediately go back to my first lonely road trip home to Montana. Driving I94 through North Dakota requires something with a strong beat to keep the driver awake. I chose Eminem's The Eminem Show.
The overall tone of The Eminem Show exposes a lighter side of Eminem as he reflects on his massive success. The lyrics are less misogynistic and slightly less violent than previous albums. This makes for a great road trip album: motivating beats and the time to appreciate Eminem's lyricism. While I am no inner city kid from Detroit, I found my own way to relate to the rhymes Eminem spills on this album.
During that 13 hour drive from Minneapolis to Red Lodge, Eminem aired his dirty laundry in "Cleaning Out My Closet" and I thought about what skeletons faced me when I got home. In a way, I ran away from Montana. I left a go nowhere town, some people that were not the greatest influence, and a stagnant, complacent relationship. My first trip home meant I had to face a few things I left behind.
As I racked up miles, I reflected on Eminem's political commentary in the song "Square Dance." My ex had just started his first tour in Iraq; which meant more questions I would have to field. Anyone who has ever lived in a small town knows that it's impossible to avoid people being in your business. I knew the townspeople would be discussing what happened to the town banker and her waiter boyfriend. "Everyone wants to discuss me." I raised the roof and rocked out to the song "Without Me" as I pulled into town. It seemed the perfect anthem to usher in my return.
In "Hailie's Song," Eminem exposes his vulnerability. This is done not only through lyrics but in style. It is the only song on the album that is sung. Even though Eminem focuses on his lack of singing ability, it yields beautiful results. Eminem dives into the pressure he feels from the media, the legal system and his life in general. While his pressures are very different than my own, I really relate to the lyrics. "People make jokes, cause they don't understand me/ They just don't see my real side/I act like sh*t don't faze me, but inside it drives me crazy/My insecurities could eat me alive." Back in 2002, I was in the throes of the biggest battle of my life, anorexia. During that drive, my mind raced with how I would save face in front of the people that supposedly knew me the best. I couldn't let my friends see that my life in Minnesota wasn't as great as I had portrayed.
Revisiting this album, I realize the tracks on The Eminem Show are like chapters in a book. "The Kiss," "Soldier" and "Say Goodbye" should always be played in track order; this provides the full story of Eminem's legal woes and battles with his baby momma. I forgot that Eminem ties his albums together with updates of stories told in previous albums. This takes the album experience to a new level. He even samples similar beats from songs like "The Real Slim Shady" from The Marshall Mather's LP to serve up "Business" on this album. Even if you don't like Eminem's music, you can't deny the genius and artistry behind this The Eminem Show. Unlike Eminem's previous albums, he takes the role of primary producer from Dr. Dre.
One of my favorite songs on the album is "Sing for the Moment" because it samples Aerosmith's "Dream On." This is one of many songs where Eminem discusses being blamed for society's ills. "They say music can alter your mood and can talk to you." Of course it can but lyrics are just words. I agree with Eminem; people need to hold themselves accountable for their actions.
Revisiting this album reminds me of my age – I can't listen to "Drips" without blushing – and how much I actually enjoy rap music. I think the reason I was, and still am, drawn to rap music is that like rock, it is often criticized and blamed for bad behavior. Plus, the dope beats make me move and show off my sweet dance skills, but I miss wailing on my air guitar.
Joy's Jams Scale (Click here to see a description)
Nostalgia –

Air Guitar –


Sing Along –
[really_simple_share]