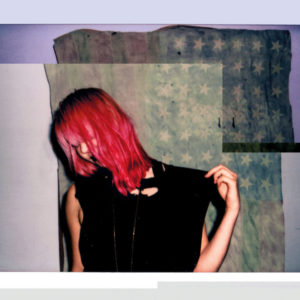 Albums are better with a mission.
After her acclaimed Past Life Martyred Saints, prime with political sociological messages, EMA followed up with The Futures Void, a critical look into the technology, social media drenched world that occupies every sense of reality. While her lyrics are heavy on the metaphors, and her subjects can be misinterpreted, her message I clear and incredibly thought provoking.
On her third album, Exile in the Outer Ring, EMA shines the light on the Outer Ring, a point she refers to where those who are unable to afford to the high cost of sprawling cities are forced further and further out of town.
Musically, Exile is an amazing doze of industrial noise drenched pop and rock excellence! While The Futures Void had superior production and songwriting, it lacked that dirty raw feel that made Martyred Saints so epic. Of course, this was by design! Futures Void was a warning of the online world that so was meticulously polished that it didn't exist. While the sound is more reminiscent of Martyred Saints, it has its own grittiness. The opening track, "7 Years" is a dark song about drug addiction. Andersons raspy vocals and effect drenched guitars come though like a midnight wind. "Breathalyzer," perhaps the darkest track on the album, is especially haunting, a drug trip well over six minutes long.
"Down and Out" is another standout from the album. EMA delivers the all too familiar truth that everyone loves you when you are on top and they seem to scatter when you need them the most. While were sure this has plenty of autobiographical influences, it is a song we can all relate too.
The B-side of Exile opens with "Fire, Water, LSD" which changes gears and directions at a rapid pace. Exiles first single "Aryan Nation" follows up. It's one of the best tracks on the album, blending finding the most song structure of any track on the album. Another favorite is the final track. "Where the Darkness Began" is spoken over waves of synth. It has a raw, dark beauty all its own and it closes the album well.
Much like EMA's previous work, it's easy to misinterpret the song meanings lyrically. While we are sure there is plenty of meaning, we know all too well how easy it is to misinterpret. With that said, Exile is an excellent cut. It combines the gritty, raw power that Martyred Saints infected us with and the more mature production and expanded sound that came with Futures Void.
Whatever trick EMA has up her sleeve next, not matter the message, mission or metaphor, we are on board.
The Vinyl
Making the jump from Matador Records to City Slang, Exile In the Outer Ring is a well packaged record with a thick cardboard inner sleeve, full lyrics sheet, and color jacket. The album itself is pressed on high quality black vinyl. The album is available now at your local independent record store.