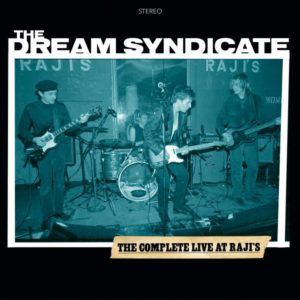 Sometimes it takes a number of years to get things right. The Dream Syndicate's "Live at Raji's" was originally released in 1989 and was the bands last release before their long term-hiatus.
Although recorded in 1988, the album didn't hit the shelves until 1989, after the release of Ghost Stories and even post band break up. Due to a reporting error of the album being recorded in 1989, the album was criticized for not including cuts from Ghost Stories when in fact those songs were still coming into fruition.
The album got the proper re-issue in 2004, courtesy of Ryko Disc, many of the errors were corrected including the proper track listing, the addition of cut tracks, and amended liner notes. Unfortunately, the album was only released on CD.
Fast forward thirteen years later and the final wrong has been corrected. Courtesy of Run Out Groove, the album has been remastered and released on wax.
So how does it sound? Pretty damn sweet! Considering the concert was recorded to a two track, the reproduction quality is excellent. The guitar work of Paul B. Cutler is incredible, especially on "Until Lately," and "When You Smile." The depth that is kept intact from the original recording is phenomenal. It's easy to get a feel for the room which really bring the live record life. The best example of this comes on "Merritville." Wynn's vocals echo off the walls, reverberating through the mic before Cutler's piercing guitar comes through the left channel, right where he was standing if you were facing the stage. Hats off to Paul du Gré for pristine vinyl master.
It's no wonder that the Raji's show is considered one of their best and this vinyl edition proves it.