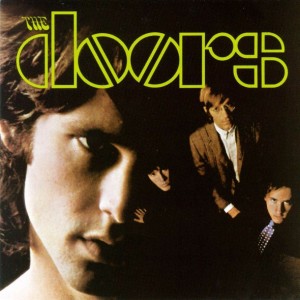 I picked up The Door's self-titled debut, self-titled album when I was 15 or 16 to impress some boys that I thought were super cool. Since I am Facebook friends with some of these boys, I will just leave it at that. Coincidentally, the songs have stayed in my listening rotation for more than 20 years.
Most music lovers know this album came out the same year as the Beatles' Sgt. Pepper's Lonely Hearts Club Band and many online reviews try to compare the two bands' interpretation of the time. Since I bought the album 25 years after its debut, I don't think I am qualified to, nor do I want to, write about their reflections of the time.
When I was a teenager, I thought every song was about drugs. The Doors seemed to be the poster child for drug influenced music and the untimely death of Jim Morrison is just fodder for those who want to relegate The Doors to being drug music. However, listening to the album in its entirety, and really appreciating the lyrical poetry, hypnotizing guitar and keyboard, I realize the genius that is The Doors' debut album.
From the first few keyboard notes of the blues inspired "Break On Through," I am immediately that brace-faced teenager who was super excited to be hanging out with dudes smoking, drinking and doing other things teenagers shouldn't be doing. Today, I still enjoy the mellow tones that blend from song to song that allow me to flow through work without any jarring interruptions.
My favorite song on the album, "Crystal Ship," portrays Morrison morning the loss of a long time love. The listener can hear the heartache in Morrison's voice as he realizes that while he gains popularity and has more sexual/romantic options, he still has a broken heart. Just because he has many other choices, doesn't mean losing the love of his life is any easier. It's a casualty of being a rock star; lots of side action, but very difficult to make a real relationship work.
"Alabama Song" is polka like in its rhythm and sounds like a psychedelic German drinking toast. "Oh, we must have whisky. And now you know why." It makes me want to shout, "Proust!" after the song finishes. "Alabama Song" immediately flows into the melodic "Light My Fire." At more than seven minutes, the song serves as the cliff hanger before the second act of the album. "Light My Fire" finally gives Robby Krieger, the guitarist, the chance to shows off the mad skills that makes him one of Rolling Stones top 100 guitar players of all time and ups my air guitar rating for the album. Meanwhile, the keyboards remain steady, adding to the listener's ability to just chill and enjoy the ride.
When I first reheard "Take It As It Comes" my adult-self thought it was The Doors trying to make a play for the popularity of the Byrd's 1965 cover of "Turn, Turn, Turn." But I still have a childish sense of humor and the sexual innuendo in the song gets the best of me.
While I think "The End" is a perfect good bye song, at nearly 12 minutes, the listener is left going "come on already." It doesn't matter what "end" Morrison is trying to describe – and there are lots of internet interpretations – "The End" puts a decent finish on the album.
The Doors have one tragic flaw – no bass player—and I have a thing for bass players. However, Ray Manzarak's keyboards often carry the bass line and create the signature sound that defines the Doors. From the upbeat rock songs, like "Twentieth Century Fox," to the bluesy tones of "Back Door Man," the album perfectly blends blues, rock and even jazz influences.
Joy's Jam Scale (Click here to see a description)
Nostalgia

Sing along ability

Air guitar

 (Only because Kreiger's guitar covers lead, rhythm and bass lines which is really hard to do)
Picking an album to revisit is sort of like trying to sort your music collection by significant events in your life. If you have any suggestions for an album I should revisit, find me on Twitter @justjoy1 or leave a comment on Get It On Vinyl's Facebook page.