Like so many stores and similar websites, we mark Record Store Day as the most important day of the year. In the religion that is record collecting, RSD is the most sacred of holidays. It is the day that the rest of the world seems to stand up and take notice of what knew all along, that record stores are still open, still relevant, and not going anywhere.
It really is amazing to believe that the holiday is now celebrating its tenth anniversary. What began as an idea has become a full-fledged worldwide event, and in some cities, a recognized holiday, with mayors giving speeches and formal declarations being made.
One thing that is very refreshing this year is that we haven't seen the usual backlash articles and Facebook diatribes that plague the week leading up to the festivities. While there is still some whining about limited availability and flippers, it seems drastically reduced. The list is more refined, more stores are participating, and the flippers have been dealt a big blow with the ingenious idea of RSD watermarking the artwork. Hats off to RSD for listening to the public and addressing their concerns as well as possible.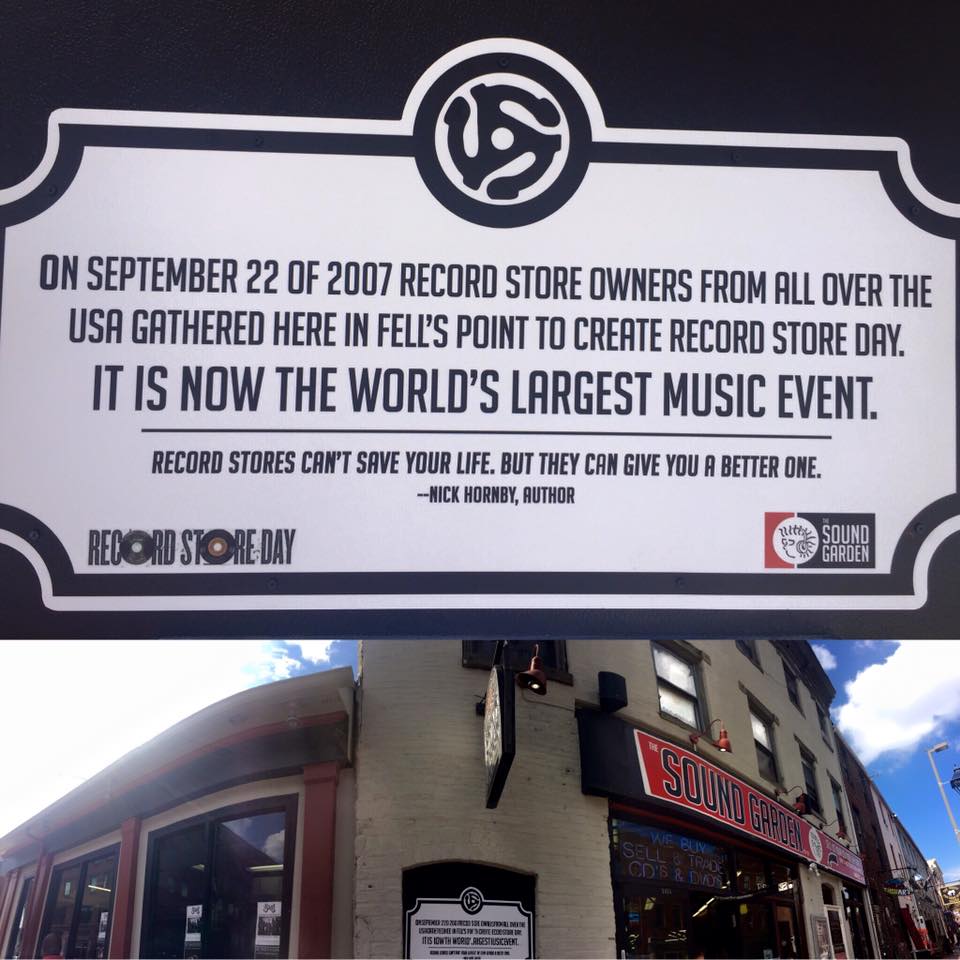 What is interesting to consider, is the correlation between the vinyl revival and Record Store Day. Similar correlations could be made with the popularity of record store day and the opening of new record stores. That brings up the question, did Record Store Day save the independent record store?
Sure, vinyl never went away. We know that. However, it's hard to ignore the raw numbers with vinyl sales showing their first major upswing after 2007.
The answer is not black and white. Vinyl saved the independent record store. Had it not, thousands of stores would have shuttered in the wake of the plummeting (and still plummeting) CD sales. The minuscule vinyl market at the time was not substantial enough to maintain the stores profitability. Furthermore, considering nearly 75% of independent record stores closed between 2001 (when the iTunes music market went live) and 2007 it's clear to see the independent record store was heading for extinction.
Record Store Day was established to "celebrate the culture of the independently owned record store." As a non-profit organization, their mission is not to sell a bunch of limited edition releases or cash in on the format, but to promote the stores that they love.
Ten years later, it appears they have accomplished their goal. While stores are not as visible as they once were, (and may never be again) the ones that remain are enjoying a renewed interest from the community. The holiday gives a chance for those outside the community to see their relevancy. Vinyl is booming again, growing year after year. Physical music is back and the independent record stores have once again found its footing.
Maybe there will come a day when we no longer need Record Store Day. Maybe stores will reach a point when they wont depend on the sudden surge of sales mid-April. That's a good thought, however we like to think there will always be a place for Record Store Day. Limited releases or not, these stores deserve their holiday, their time in the sun. Yes, EVERY day is Record Store Day to those who appreciate them. Our mission should be to convince more of that idea.
So, did Record Store Day save independent record stores? No, the vinyl format saved independent record stores. The customers saved independent record stores. However, it took Record Store Day to remind everyone of that connection. It took Record Store Day to make the casual collector a return customer. It took Record Store Day to make the world sit up and take notice before their neighborhood store was gone for good. For that, we say THANK YOU!
So, congratulations Record Store Day. Mission accomplished! We thank you and wish you the best on the next ten years.