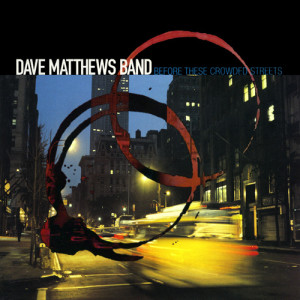 Being crazy homesick for Montana, I decided to revisit the album that reminds the most of home – Dave Matthews Band Before These Crowded Streets. While I do really like DMB, I am not always a fan of their jams and typically listen to my favorite songs individually. In doing so, I missed some of their best work.
Listening to Before These Crowded Streets from start to finish, you realize the brilliant orchestration and how each song is beautifully woven together. Each song leads right into the next. Hidden tracks or a simple change in tempo and tone offer reprise to earlier songs and sets the tone for the next song. The use of horns and strings provide light melodies in some songs and haunting effects in others. For example, "Halloween's" low baritone saxophone, eerie strings, and Dave Matthews' raspy voice sounds like something big and scary stalking its prey through the woods. This album is full of great collaborations from artists such as Alanis Morissette and Be'la Fleck.
It's amazing that DMB can weave together light theme of love, while tackling heavier topics of Manifest Destiny ("Don't Drink the Water"), greed ("Pig"), and religion ("The Last Stop," "Spoon," and possibly "The Stone" and "The Dreaming Tree"). The internet is full of fan sites where people speculate on the meaning of the different songs, but in interviews Dave Matthews stays particularly vague, preferring to let the listeners interpret the lyrics on their own.
The album's lighter love songs bring me back to the mountains of Montana. The opening bass lines of "Crush" immediately take me back to driving down Hwy 212 from Billings, MT to Red Lodge, MT. Suddenly, it's a sunny winter's day with the top down on my boyfriend's convertible and skis hanging out the back seat. The smell of the fresh, crisp mountain air and the chill wind blowing across my face, with the heater full blast on my feet. To be 22, in love, with the mountains on the horizon; I have never felt so free. We constantly replayed "Crush" and "Stay" on that hour drive up to the ski slopes. To this day, if "Crush" comes on unexpectedly, the rush of emotions floors me and my world stops spinning for those brief 8 minutes.
While many who know me may think that Bon Jovi's Slippery When Wet is my favorite album, Before These Crowded Streets is my all-time favorite. That CD never left my car for 6 years. Now, I particularly relate to "Pig". The song reminds us to appreciate what we have now and value the present instead of always wanting more. Today, this hits home because I realize I wasted most of the time I lived in Montana trying to get out to the big city. I never appreciated having the mountains in my backyard until they were gone.
Joy's Jam Scale (Click here to see a description)
Nostalgia –
Air Guitar –

Sing along –

It should be noted that Before These Crowded Streets is the first of only three Dave Matthews Band studio albums released on vinyl. Let me know what you think of Before These Crowded Streets. Follow me on Twitter @justjoy1 or leave a comment on the Get it on Vinyl Facebook page.