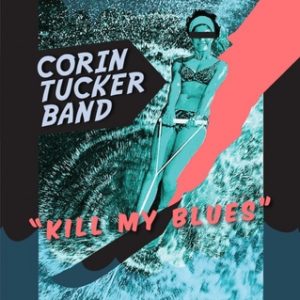 Tucker Delivers With Her Sophmore Release
So many critics are quick on the draw to point out any similarities or differences from former Sleater Kinney members. Wild Flag got their fair dose of it, but now, with the release of Corin Tuckers "Kill My Blues" the pressure is back on her to declare the state of the Riot Grrrl movement. Luckily, Tuckers evolvement since the Sleater-Kinney days has been brilliant.
"Kill My Blues," The Corin Tucker sophomore release, firmly proves that Tucker has not lost any of her Riot Grrrl roots, and the opening song "Groundhog Day" questions the current state of the revolution that she helped pave the way. Asking bluntly "Did I lay down? Did I fall asleep? On the backs of women who have come before me?" The angst and frustrations are still there, just more matured, more focused. Tuckers voice hasn't lost any of its power, and it is a quick reminder of why that voice led the charge.
"Kill My Blues," an addicting blues driven love jam, showcases not only Tuckers trademark lungs, but her other secret weapon, the band. Seth Lorincz, Sara Lund, and Mike Clark, deliver a keys and guitar driven blues knockout which leaves plenty of room for Tucker to shred. It is a rare treat when you can find yourself jamming this hard to a soul bearing love song.
"I Don't Wanna Go" stands out from the first side as well. The subject matter is not clear. Not from a lack of songwriting, just not specifically stated. What is abundantly clear is the pain is real, severe, and we feel it.
The second half of the album has some reminiscence of her first solo work. While many chastised our favorite Riot Grrrl for straying from her trademark sound with Sleater-Kinney, it is great to hear she still has some slower ballads to deliver. As fans of her first release, "1,000 years", songs like "Outgoing Message" and "Blood, Bones, and Sand" are a welcome slow down. "Blood, Bones, and Sand" is Tucker at her songwriting best; a powerful song about motherhood. While it asks the question "How can I keep you safe in a world full of violence," Tuckers voice exudes pure confidence.
"Tiptoe" gets right back into the punk groove that dominated the first half of the album. Along with the finest guitar work on the album, we are reminded that Tucker still has plenty of juice in her tank and is not afraid to use it.
Tucker has seemed to find her balance with this release; gravitating back to her roots, while at the same time willing to show her growth and maturity. One thing that has never changed is her passion, her confidence, and her overwhelming drive to drive home the message of each song. Combine that with the exceptional band, and Tucker shows depth that may have never been possible with Sleater-Kinney. Tucker has stepped out of that shadow and for now the spotlight belongs on the Corin Tucker Band.
The Vinyl
Kill Rock Stars never lets us down. The Olympia, WA based label has always been a huge supporter of vinyl, and have been willing to throw plenty of money at the production. The album is pressed on heavy 180 gram vinyl. The cover art is great and there is full lyrics sheet insert. Plenty of photos and a digital download card are included as well. Well worth the very affordable cost.
You can buy "Kill My Blues" from your local independent record store or from Kill Rock Stars