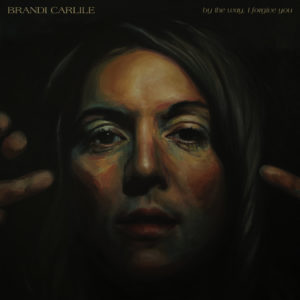 Some artists change their sound with each release. Some artists rehash their successful formulas. Some choose to build on their style, growing on their established work. Then there are artists like Brandi Carlile, who continue to reset the bar, higher and higher, ever improving their catalog.
Less than three years after her excellent album, The Firewatchers Daughter, Carlie is back with her new album, "By the Way, I Forgive You" out February 16 on Elektra.
On the new album, Carlile does indeed reset the bar. In fact, setting it higher than she has ever before in her career.
Once again working with bandmates Tim & Phil Hanseroth, Carlile teamed up with Grammy award winning producer Dave Cobb and Shooter Jennings. The album is the first release on Cobb's Low Country Sound, a new imprint of Elektra Records.
The opening track, "Every Time I Hear That Song" has amazing presence. Carlile sounds like she is next to you and singing in an empty stadium. The ambiance lends to lyrical statement of the track, close and personal but with distant confidence that has been achieved with independence. The vocal work with her and the Hanseroth brothers is right up there with "The Eye" which made her last album so awesome.
On "The Joke," the first single from the album, Carlile swings for the fences vocally. The string arrangement is beautiful. The track grows more with each progression into a moving and lush experience.
"The Mother" is an exceptional song from the album. Any parent can relate to this simple, honest, and moving testament.
The album is not all slow tempo emotional drives. "Hold Out Your Hand" is an up-tempo alt-country jam that dives into a sing along track guaranteed to have your feet stompin' like your trying to kick the devil with arms stretched out like you are hungry for revival.
The storytelling premise on "Fulton County Jane Doe" is fantastic. Albeit a sad story, expertly told by Carlile. The songs message come through clear with the closing words, "We came into this world with nothing, and all were taking is a name. That's why I've written you this song. This is for Fulton County Jane."
Our favorite track from the flipside of the album is "Sugartooth," a powerful song both in message and presence. The song dives into darker subjects of addiction, depression and suicide. While lyrically heartbreaking, the track is grand in production making great use of backing vocals and piano work.
Finishing out the LP is "Party of One." What begins as a simple track, just Carlile with the piano swells into a song that reaches new depths of songwriting. Carlile leaves her soul on the song, lyrically moving from relationship struggles to re-commitment, ending the track with "I am yours, I am yours, I am yours" before the keys and strings bring this tremendous album to a close.
There is not a lackluster track on this album. It is Carlile at her best, her band at her best, and the recording is stellar. It's still early in the year, but By the Way, I Forgive You is the best we have heard so far and will no doubt be one of our favorites of 2018.