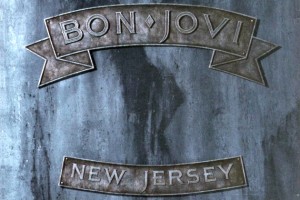 While many tweens in the late 80s listened to New Kids On The Block and bought Teen Beat magazine, I rocked out to Bon Jovi, Poison, and Motley Crue and plastered my room with photos from Metal Edge. The inspiration for my love of Glam Rock is one man. Jon Bon Jovi. So when Bon Jovi re-released New Jersey, I had to run out and buy the deluxe box set, complete with vintage Bon Jovi photos and a DVD that will keep me company on lonely nights. With the huge success of Slippery When Wet and a heavy tour schedule, it's amazing Bon Jovi actually found time to write enough songs for one album, let alone two.
Jon Bon Jovi and Richie Sambora aren't known for writing overly deep lyrics. The themes are light and obvious: love, sex and friendship. But they do know how to write fun songs people will love. New Jersey is a staple in my listening rotation. I love how easy it is to sing along, play air guitar and pretend I have mad keyboard skills like David Bryan. I've listened to these songs most of my life, so I can't associate one song with one feeling. I listen to any song on New Jersey and I feel pure happiness. I dance around or pound my hand on the steering wheel and sing at the top of my lungs. The light lyrics make me feel like having a good time. "Everything you want is what I need, your satisfaction is guaranteed." Thank you Jon for making that promise in "Lay Your Hands On Me" and sticking to it for so many years. I hear "Blood On Blood" and while it is about a bunch of dudes growing up together, it easily could describe the fierce loyalty I have towards my lifelong girlfriends. I love the songs on this album so much, "Born to Be My Baby" was the first song my husband I danced to at our wedding.
Even though the New Jersey Deluxe Box set marks the 4th release of New Jersey, Jon knows his fans are loyal and clamoring to hear more. The second disc of the deluxe edition, Sons of Beaches, contains never before released demos. Since the songs aren't over produced, you hear the grit in Jon's voice – making him sound more like a real heavy metal rocker than the glam/hair-sprayed one he has been relegated to. Sons contains many demos of the songs that made the original release and songs that missed the first release that sound like typical Bon Jovi rock ballads: "Now and Forever" and "Does Anybody Really Fall in Love Anymore." Sons closes with "Diamond Ring," which actually made the band's These Days album.
If Bon Jovi included Sons of Beaches with the original New Jersey release, my parents may not have let me listen to it. I don't think they would have liked their eleven year old singing "Let's Make a Baby" with lyrics like "Turn out the lights, I'm going down slowly" and "We'll get the sheets all wet and make you feel naughty." It's bad enough I had to sit through one parental conversation about "Living In Sin." Looking back, I am sure I embarrassed my parents when my best friend and I made up a dance to "I'll Be There for You" that we debuted during a dinner party my parents were hosting with people from church. To this day, every time I hear that song, I have to do the hand gestures we made up for the title's refrain.
Jon Bon Jovi and his production machine in the late 80s knew the fans wanted fun radio singles. From the 12 songs that made the original release, 5 were top 10 singles: "Born to Be My Baby," "Bad Medicine," "I'll Be There For You," "Living In Sin," and "Lay Your Hands On Me." Listening to this album from start to finish contains no surprises. I will continue to keep this on the shuffle setting and enjoy the singles and the new songs that Sons of Beaches adds to my collection.
Nostalgia –
Air Guitar Ability –
Sing Along Factor –