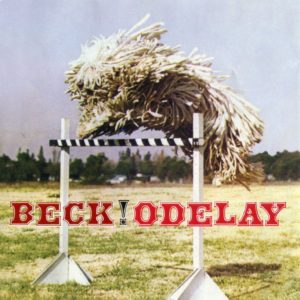 1996 was quite a year. I graduated from high school and started college. Princes Diana and Prince Charles officially divorced. The TWA 800 crashed over Long Island and the Unabomber, Ted Kaczynski, was arrested in my home state. The Fresh Prince of Bell Air ended its six season run. I voted for Bob Dole in my first presidential election and, while the populous was doing the Macarena, Beck blew my mind and the music charts with Odelay.
I can't here "Where It's At" without immediately going back to my freshman year in college. I used the song as background music for my final project in my video production class. I am going to age myself when I say that it was edited on actual video tape.
I played this album almost non-stop that first year of college. Looking back, I am not sure how I even had time to listen to music. Running from school in the morning to work in the evening and ending the day with late night study sessions left little time for sleep. However, songs like "Hot Wax," "Jack Ass" and "Derelict" provided the chill groove I needed for late night homework.
At the time, the complex production of the album seemed so different from anything I had ever heard. Now, I realize that like most things that seem exciting and new, the sounds saturating Odelay are something that have already been explored. In the late 90s, I didn't realize the 60s and 70s influence or recognize all the tracks Beck sampled. Fast forward 20 years, now that I have a little broader musical view, these details stand out.
Songs like "Devils Haircut" and "New Pollution" sound like something out of an old spy thriller with 60s psychedelic sounding guitars, organ and snare. The bass lines further support the Austin Power's vibe. Meanwhile, "New Pollution" throws in a saxophone sample from Joe Thomas's 1970 something "Venus," giving it a mysterious, bluesy sound.
Meanwhile, songs like "Sissyneck" and "Jack Ass" continue with the retro sounds but with a more San Francisco, free love vibe. "Jack Ass" samples Them's version of Bob Dillon's "It's all over now, Baby Blue."
While the sounds are familiar, Beck's genius lies in his ability to bring these old tunes and sounds to a new generation with a catchy, fresh twist. Whether it is hi-fi feedback, over-saturation in songs like "Hot Wax" or bizarre radar sounds in "Novocain," Beck mixes it all up to deliver a fusion of hip-hop and rock into one funky album.  
Although Odelay doesn't spark a flood of emotion, it does continue to intrigue me. More than 20 years later, Beck continues to surprise and Odelay is still in heavy rotation in my music mix.
Joy's Jams Scale (Click here for a description.)
Nostalgia –

Air Guitar –

Sing Along –