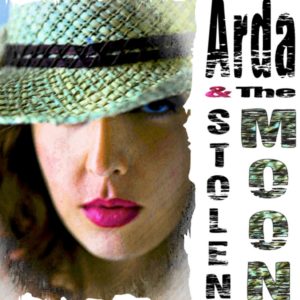 I am a sucker for the singer/songwriter genre. The title simply opens endless opportunity with a vast array of influences. Perhaps no other genre gives the artist as much freedom to create a space to tell a story, convey an emotion, or make a statement.
Minutes Into Years is the first LP from Arda and the Stolen Moon. Over ten tracks, Arda drives in many different directions and tackles multiple stories lyrically. Choosing direct lines rather than heavy metaphors, Arda's songwriting is to the point. Whether it is longing for someone on "Who Am I Kidding?" or the perceptions social media causes on "Parallel Universe," Arda delivers her message with an airy, vulnerable voice and a full range of instrumentation that ranges from piano based ballads like "You're Not You Lately" or full guitar shredding power ballads like "Bad Things."
Upon the first listen, Arda's lyrics might sound broken, either out of timing or rhyming patterns, but that comes with the exchange of real honesty. Arda will take exactly the number of syllables and the precise words needed to convey the emotion. Once that is realized it makes it easier to appreciate the wide scope that Arda and her band have delivered on the album.
Our personal favorites are "Dear Lover," a jazzy cover of Social Distortions track that Arda's reserved vocals serve well. We also dig the piano work of Nicolas Melis. Then out of nowhere Socrates Leptos fricking kicks the album up a notch and Arda's vocals seem to absorb the energy.
"Grandmas Minute" is perhaps the best track of the LP. Soft and simple, the track has that great feel of childish innocence. Obviously that was the intent but Arda's vocals fit the mold well. While she wavers on the falsetto, she brings it back strong. Forget the speicifics, the message and motives of the track are clear and well executed.
Minutes Into Years is a solid start for Arda & the Stolen Moon. While it has room to grow, it easily grows on the listener with every spin.