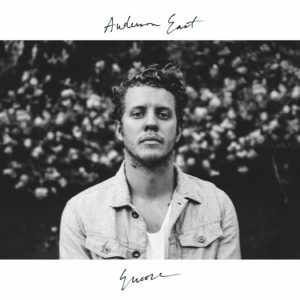 Neo-doyen southern soul singer/songwriter Anderson East released his fourth studio album, Encore, on January 12, 2018 via Elektra. The 11 tracks are the latest offering in this artist's blue-eyed soul catalog and a luscious entry it is. Not so much a departure from his previous albums Flowers of the Brokenhearted and Delilah as a continuation. The third track on the album, "House is a Building," and, indeed each track, is a stepping stone to the next level of artistry of this architecturally sound musical "house."
His version of the Ted Hawkins' moony "Sorry You're Sick" blues tune is an uptempo anthem that undercuts the message with an effervescent optimism reinforced with aggressive horns. The tracks glide from bluesy folk to retro soul, a teeter-totter between the heartland and 60s, 70s soulville. With "If You Keep Leaving Me," he dips into Otis Redding/Joe Cocker territory with his raw, powerful vocals, a raw potion of emotion. With "Girlfriend," he puts the pedal-to-the-medal of a love song, giving it the supercharged feel of Ides of March's "Vehicle" with the funky, outrageous horns. "All On My Mind" and "Cabinet Door" ease back to a contemporary sound, reminiscent of Imagine Dragons and the Avett Brothers, respectively.
East and producer David Cobb have created a record worthy of heavy rotation. The unguarded lyrics, East's sandpaper pipes and the drifting between polished contemporary blues rock and vigorous retro soul make this album a golden compendium of love-related apercu.
-Sonya Alexander