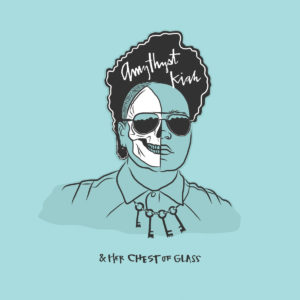 Amythyst Kiah describes herself as a Southern Gothic, alt-country blues singer/songwriter. After two solo albums, Kiah set out to self-release her new full band EP, self-tiled; Amythyst Kiah and Her Chest of Glass. After a successful Kickstarter, the EP caught the attention of independent vinyl label, Soul Step Records which gave it a proper vinyl release.
The EP opens with a haunting rendition of Vera Hall's masterpiece, "Trouble So Hard." Along with another Hall cover, "Another Man Done Gone," Kiah and the band pay tribute to the legendary folk artist adding enough instrumentation to bring the tracks new life while staying very loyal to the originals.
Kiah's vocals are a force to be reckoned with on "Hangover Blues." Opening with just her pipes and Taylor Green on keys, her voice howls and across her range before the rest of the band kicks in with a full-fledged powerhouse of blues. The album crescendos in epic fashion. It is by far the best track of the EP.
"Myth" is the deepest and most moving track of the EP. Led by Kiah's vocals and acoustic guitar, the song transcends into a wave of blues drenched euphoria led by the amazing string arrangement by Erin Dalton.
Amythyst Kiah & Her Chest of Glass is an impressive cut showcasing the groups unique style with Kiah's vocals at the helm. Give a listen below and make sure to pick up a copy from our friends over at Soul Step Records.