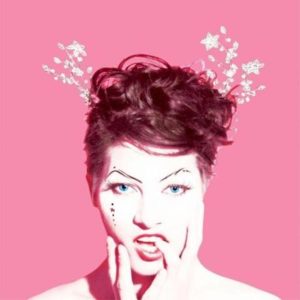 The Queen of Independent Music Continues Her Rightful Rein
Amanda Palmer has plenty of titles. Dresden Doll, solo artist, Kickstarter superstar, social media queen, you name it. No matter what the title, one thing is for sure. If she is going to have a title, she is going to fucking own it. She is going to be the best, and she is going to make everyone follow.
It has been four years since her first solo work, "Who Killed Amanda Palmer," the brilliant album that launched her into a new level of brilliance and proved that the post-Dresden years were going to be equally amazing.
For those who have followed in the meantime have been privileged to see and hear one of the most amazing stories that re-wrote the rules on self-promotion, marketing, free speech, and independent releases. In addition to offering alternate takes of WKAP, Palmer released "Amanda Palmer Performs the Popular Hits of Radiohead On Her Magical Ukulele" as well as "Amanda Palmer Goes Down Under." Both releases featured new original material to hungry ears, as well as tracks from her unforgettable live shows. However fans were still waiting for a proper follow-up to the unforgettable WKAP.
Enter the Grand Theft Orchestra.
April 20, 2012 is the day that fans had been waiting for. Amanda Palmer set out to raise funds for her new album with The Grand Theft Orchestra. Within 30 days she had exceeded her goal to the tune of almost 1.2 million dollars! The bar had been set high. Expectations were huge, and Amanda Fucking Palmer delivered.
Theatre Is Evil is flat out amazing, quite possibly the greatest album of the year.
WKAP featured a rawness that was addicting. Many tracks just featured AFP doing what she does best, singing heart-felt songs and playing the piano. With the support of a full band, whose musicianship is excellent, Palmer spreads her wing even further than the most dedicated fans ever thought she could.
"Theatre Is Evil" could almost be a soundtrack, but not of a movie, not a Broadway production, more of a soundtrack to a movement. You may not know the agenda, but you don't want to be left behind.
"Smile" is a personal favorite. The wall of sound surrounds you. It is the best representation of the fullness that the Grand Theft Orchestra can create. It could almost be separated into movements. "The Killing Type" features the most infectious bass line I have heard in years. It's simplistic, but combined with Palmers' raw voice, the GTO backing vocals, and exceptional percussion, it's unstoppable and destined for greatness. Check out the video, you may never be the same!
For those searching out another "Oasis," you will not be disappointed. Certainly not as tongue-in-cheek as the controversial song, "Do It with a Rockstar" shows that AP hasn't lost her sense of humor, but makes no mistake, it's a fucking rock song that demands fists in the air!
No matter how amazing of a self-promoter she is, nothing can hide what AFP truly is, sheer raw talent. She is easily one of the greatest artists producing music today, and she is not only doing it on her own, but better than anyone could on any major label.
Equal credit is given to producer John Congleton. I am convinced that he is the greatest producer on earth today. The man cannot produce anything less than brilliance. What an amazing choice of a producer.
Every track has its own heartbeat. Every track has its own soul. If you buy no other album this year, buy "Theatre Is Evil!"
The Vinyl
Despite her digital presence, Amanda Palmer has always been a huge supporter of physical music, especially vinyl. It would have been real easy to package up this album with very little thought. The music would sell this wax. That was not good enough for Palmer.
"Theatre Is Evil" has a production quality that makes us remember why we love vinyl records so much. Inside of its super thick gatefold cover lays amazing artwork, two 180 gram black LPs, full lyric sheets, and high quality photos. Palmer and her label, 8 Ft. Records have delivered one of the best produced albums we have seen in the last three years, and are at the top of the list for Get It On Vinyls' Record of the Year Award…..we don't even have that award yet, but we are ready to create it for her!
You can buy the album from your local independent record store and Amanda Palmers Website.