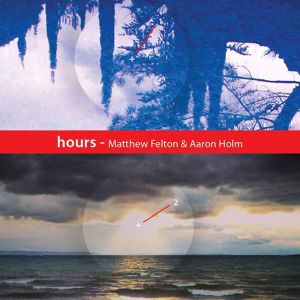 Who says there is nothing new in music? So much of modern music has become mashups of genres, forcing recycled experiments into molds and calling it something new. The problem is not the idea of creating a new a sound, but the way it forces us to re-think the music that inspired the experiment.
Aaron Holm and Matthew Felton have taken a different direction.
Both masters in their respective genres (Holm: electronic, Felton: classic piano) the duo chose to work individually on their new CD, Hours.
Hours is an appropriate title. Each disc is a single track, one individual piece with multiple movements for each. While each artist works separately, it's clear there is a unity of each installment. In the press release Holm states, "I was in Goa in 1999 as the monsoon came up the coast from Karnataka in the south. As the storm approached, I swam and felt the power of the ocean and of a storm hundreds of miles long that dominates life in the region for months. Time is drenched in water and there is no choice but to submit." Holm's "My Beautiful Monsoon" certainly captures this feeling with his intense but never overpowering ambient work. "Sacred Muse," Felton's contribution, gives the same vibe but in a much more subdued fashion. There is absolute power in his keys and it's easy to get lost in its beauty.
Hours is two-hours well spent. Every now and then we dream in a conscious state of time. We are in control, and at complete peace for that short glimpse of time before we awake to reality. This is the soundtrack.
You can pick up a copy from your local independent record store or directly from Dissolve Records.