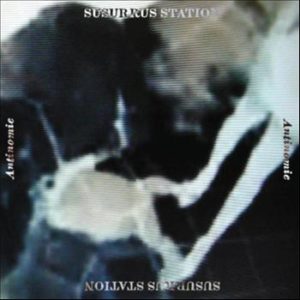 Experimental rock duo latest release teeters between brilliance and intolerable obscurity.
It is always great when an album takes you on a journey. As firm believers in the concept album and judging an album by its entirety, we welcome an experience when listening. Sometimes this journey is pleasant and leaves us with that warm and fuzzy feeling, other times we are left breathless, as if we have been punched in the guts. While "Antinomie" certainly falls into the latter category, we find ourselves intrigued and we want to get hit again.
Much like how it is difficult to define Susurrus Station's genre or sound, it's nearly impossible to review this album track by track.
The album takes off and fires on all the orchestral cylinders that are at the disposal of members Jason Breeden and Sara Johanne. "Keep Up Your Spirits" is airy, and melodic and sets the scene well for the rest of the album.
There are times when the album veers too far into the oblivion, and at times it's difficult to determine where the median of the sound is. Sure, we understand experimental rock music, and an exact song structure is not required, but there are times when the sound ventures off in too many directions and our feelings of intrigue turn into annoyance. Luckily these times are few, and the standout tracks "The Harmonist" and "Play the Fool" border on the edge of sheer brilliance. The orchestral arrangements are enthralling. The lyrics are haunting.
By writing their own rules and taking some significant risks, Susurrus Station has created an album that borders on the edge of exceptional. Make no mistake, we are taken back by the obscurity, but the talent and originality of this group make this record one of the most intriguing albums of the year!
The Vinyl
Released on the bands own label, AIO Records, the LP is pressed on 180 gram black wax and features a full colored jacket with all song lyrics printed on the back.
The album can be purchased from your local independent record store or from the bands website.
httpv://www.youtube.com/watch?v=6qOhtYdvzd0