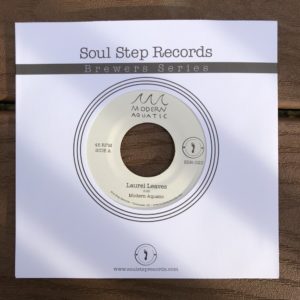 There is some great music coming out of Cincinnati these days! The 4th installment of Soul Step Records Cincinnati Brewers Series is a 7-inch from Modern Aquatic.
Formed in 2015, the indie rock 5-piece takes cues from influences such as Vampire Weekend and Weezer but carve their own slice of sun drenched indie rock. Think Best Coast meets he Strokes.  
The first track of the single is "Autumn Leaves" which has a great summertime love story vibe. While there is a hint of surf rock on the track, its best played curled up with someone looking up at the summer stars.
Much like the titles namesake, "Edgar Allen Poe Was a Hardcore Dancer" is more complex than the a-side. While the rhythm section drives, the lead guitar works the scales breaking down on the bridge before the band jumps back in-unison. The band makes great use of its three-guitar attack, laying on lush layers of indie rock goodness.
If this 7-inch is any indication of what is on the way from Modern Aquatic, we can't wait to add a full length release to our collection.