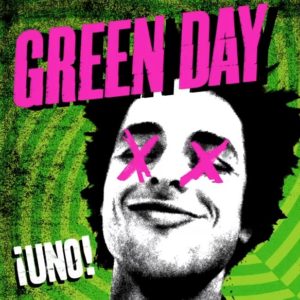 Trying to find their old sound, Green Day gets lost in the production.
It almost seems like there are three types of Green Day fans. Many are loyal to the pre-"Dookie" Green Day and their primary message was simply "not giving a f#ck." Others swear by the more mature Green Day who evolved through several albums before their opus that was "American Idiot." Then there are those who love them all!
"Uno!," the bands' first in a trilogy of albums, tries to circle back and capture the energy and three-chord punk power that the Lookout years showcased.
The album opens with the punchy "Nuclear Family." The song sounds like it could have easily been a leftover from "Kerplunk." This is where the nostalgia ends! It becomes clear by hearing "Stay the Night" and "Fell for You" that the old school Green Day is not that band anymore. The music is more produced, and almost annoyingly polished. It's not just the slower tempos, it's just "too perfect." While "Kill the DJ" is fun, it's so close to Good Charlotte it's distracting.
The flip-side continues with the same. The clap-along "Trouble Maker" sounds like a rip off riff from any Offspring album, just without the balls to back up the campy lyrics.
However there are some bright spots. "Sweet Sixteen" is unlike anything we have heard from Green Day in the past. Billy Joe Armstrong's voice is both clean and pure. "Oh Love," which was also the second single from the album, is the brightest star on the album. The guitar work is excellent, and the lyrics are just begging for a sing along.
For the hardcore Green Day addicts, Uno! is bound to please. For those looking for the old school Green Day, we can hope the Dos! delivers the old school energy we have been seeking for so long.
The Vinyl
The album is pressed on 180 gram black wax and comes with a full lyrics sheet. Other than that, nothing exceptional, but an honest effort by Reprise Records.
You can buy Uno! From your local independent record store or the Bands Website.