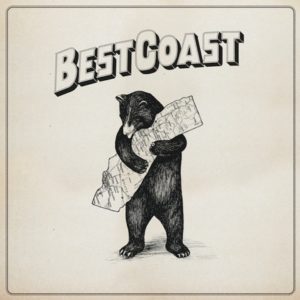 If this is the only place to be, we want to move.
With the first listen of Best Coasts' new album, "The Only Place", it's clear the bands sophomore release is trying a new formula. Sure, almost all bands try this. Now, I am not an elitist who scorns a band if they try something new, in fact, I quite enjoy it. I enjoy it even more if they mature, and progress their sound. Making yourself better does not mean you have sold out, it shows growth, and that is something that is lacking in much music today.
So I halfway expected a more mature sound from Best Coasts' new album, but found myself curious about how they would do it, ever since I read that it was in production.
The band's first release, "Crazy For You" showcased their trademark low-fi sound with Bethany Cosentinos' airy vocals that always seemed to get washed out in the surf rock reverb. However, even when it did get washed away, the clarity of her sweet voice shone through.
So it only made sense that they chose to showcase her voice more on this record. The low-fi vibe is still there, but you have to strain your ears to hear it. If their mission was to get away from their trademark sound, they have accomplished this. If their thought was to mature their sound, I fear they have failed.
When I first heard the lead single, and title track "The Only Place" I noticed that her voice was brought out more in the mix, but the same fun, summer anthem pop lyrics were there. I was excited to hear what the rest of the album had to offer.
As a big fan of the first release, I must say I am let down. Cosentinos' lyrics are (self admittedly) lacking originality in both their subject matter and rhyming structure. She has said in interviews past that she does not put much depth into her lyrics. That's fine! Lyrics are only half of the equation.  However when you take away your known niche sound, you have to offer something in return. As it fails to do so, this makes this album moderately forgettable. The songs sound quite repetitive, and I find myself listening back to identify any unique characteristics of a song.
Not that the album doesn't have some bright spots. "How They Want Me to Be" was a welcome sound to wrap up side one. At the same time, "Up All Night" stands out, and not only because it's the only song on the whole album to break the four minute mark. What makes this track great is that we start to see that the depth of songwriting is in Bethany's grasp, she just needs to refine it.
The Vinyl
Teaming up again with Mexican Summer Records, this LP was promptly released. While the artwork is simple, the jacket is thick and textured. The wax itself is black 180 gram.  There is an artwork insert, as well as a download card. It is nothing amazing, but it follows suit from the first release, minus the lyric sheet.  Overall, well worth the affordable $17 I paid for it.
If you want to take the trip, you can get the album at your local independent record store or from the bands website at http://www.bestcoast.us